Easiest Summer Bacon Ranch Pasta Salad
This is a flavorful pasta salad with crisp cooked bacon, really adding a great flavor. Pairs well with those BBQ'd burgers/brats and ICE COLD beverages all waiting for you while staying at the Bailey's Bed'nBale.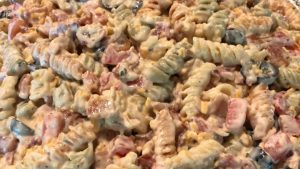 Prep time 10 minutes, Cook 15 Minutes, Ready in 1 hour 25 Minutes
Ingredients:
1 (12 ounce) package uncooked tri-color rotini pasta
10 slices bacon ( I like Naturally Hardwood Smoked Sliced Bacon )
1 cup mayonnaise ( My Favorite is Mayonnaise Dressing with Olive Oil )
3 tablespoons Bacon Flavored Ranch Dressing.
¼ teaspoon garlic powder
½ teaspoon garlic pepper
½ cup milk, or as needed
1 large tomato, chopped up
1 ( 4.25 oz ) can sliced black olives
1 Cup shredded sharp Cheddar cheese
Let's put it all together:
Bring a large pot of lightly salted water to a boil; cook rotini at a boil until tender yet firm to the bite, about 8 minutes; drain.
Place bacon in a skillet over medium-high heat and cook until evenly brown. Drain and chop.
In a large bowl, mix mayonnaise, ranch dressing mix, garlic powder, and garlic pepper. Stir in milk until smooth. Place rotini, bacon, tomato, black olives and cheese in bowl and toss to coat with dressing. Cover and chill at least 1 hour in the refrigerator. Toss with additional milk if the salad seems a little dry.
Nutrition Facts
Per Serving: 336 calories; 26.8 g fat; 14.9 g carbohydrates; 9.3 g protein; 31 mg cholesterol; 691 mg sodium.