Smore Pizza
Ingredients:
2 cups graham cracker crumbs, 2 1/2  cups all-purpose
flour, 1 tsp baking soda, 1 tsp salt, 1 cup unsalted butter softened,
2/3 cup sugar, 1 cup brown sugar, 2 large eggs, 2 tsp vanilla, 4 cups
mini marshmallows, 1 cup chocolate chips, chocolate sauce for serving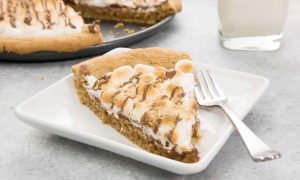 Instructions:
Preheat the oven to 350F degrees. Grease a round pizza pan with
nonstick cooking spray or oil.
In a large bowl, mix together graham cracker crumbs, flour, baking
soda and salt.
In a medium bowl, beat butter, sugar and brown sugar until smooth.
Mix in eggs and vanilla. Then mix in dry ingredients until combined.
Roll out dough onto prepared pan. Bake 12-15 minutes. Remove from
oven.
Sprinkle chocolate chips on top and then add mini marshmallows.
Bake 3 more minutes until golden.
Sprinkle optional crumbs and drizzle chocolate sauce on top. Serve
and enjoy!